Square Murano glass plate
Decorative plate of the collection "ANNI 70" in opaque Murano glass, created by the fusion of glass sheets in a color combination recalling the geometric style of the seventies. This plate is an elegant object that fits well with any modern interior.
Q11  –  11 x 11 cm (4.33 x 4.33 in)
Q15  –  15 x 15 cm (5.91 x 5.91 in)
Q20  –  20 x 20 cm (7.87 x 7.87 in)
Q25  –  25 x 25 cm (9.84 x 9.84 in)
Q30  –  30 x 30 cm (12.20 x 12.20 in)
R20  –  21 x 10 cm (8.27 x 3.94 in)
R30  –  31 x 15 cm (12.20 x 5.91 in)
R40  –  41 x 21 cm (16.14 x 8.27 in)
red/black  –  black/ivory  –  red/ivory  –  multicolor
Each product is handmade, unique and exclusive! It is created and signed by our master glassmaker Stefano Birello and is accompanied by a certificate of guarantee for the quality and authenticity of the product.
In handicraft production, every glass object may be slightly different in shape, color and size from the image above. Any small differences and irregularities in design, shape and color, as well as small air bubbles, are not flaws, but a sign of our products quality.
Do you need large quantities? Do you want it in different colors or sizes? Do you want a custom order? As a manufacturer, we are able to create custom objects with different decorations, colors or shapes according to your requirements. Please contact us!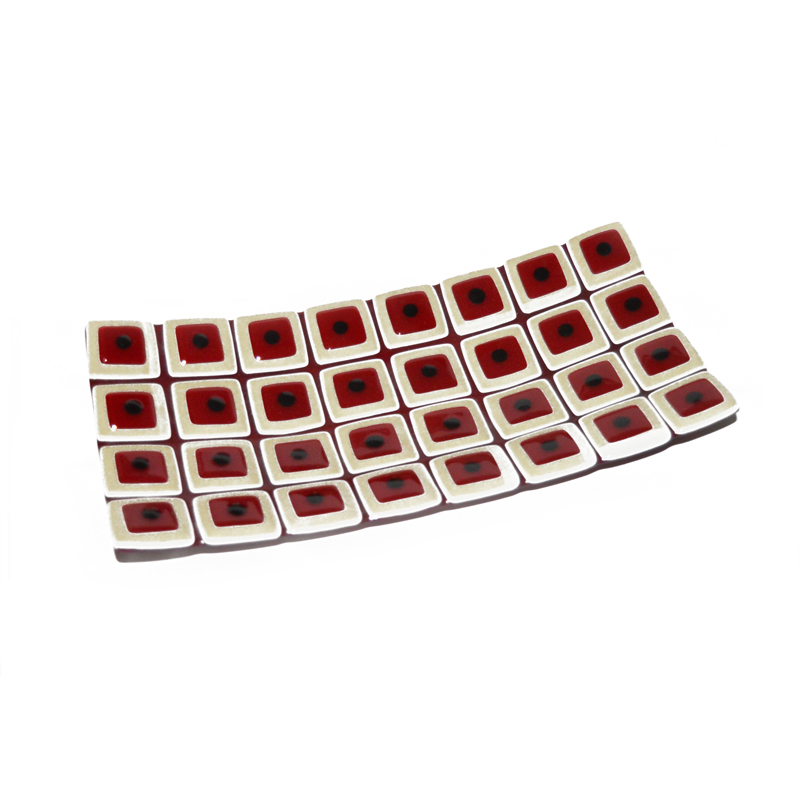 ANNI 70 - R30
ANNI 70 - Q15
ANNI 70 - R40
ANNI 70 - Q30